Battery
Battery FAQ/Support
 Battery Terminology
Voltage/Electromotive Force (Volt,V,E): The electrical pressure driving electrons through a conductor.
Open Circuit Voltage (OCV): The voltage of a battery in the absence of a charge or discharge current.
Voltage Under Load (VUL): The voltage of a battery in the presence of a discharge current.
End of Discharge Voltage (EODV): The voltage of a battery at the end of discharge while under load.
End of Charge Voltage (EOCV): The voltage of a battery at the end of charge while still on charge.
Specific Gravity (SG): The density (mass/volume) of the liquid (electrolyte) relative to water, at the same temperature.
Ampere (A): The rate of flow of electrons. Electrical current.
Ampere-Hour (AH): A measure of current over time. Battery capacity (Ampere-Hour = Amps x Hours).
Watts (W): The rate of using energy to do work. (Watts = Volts x Amps).
Watt-Hour (WH): The measure of power over time. Energy (Watt-hours = Volts x Amps x Hours).
 How to handle batteries
Precaution
If treated with care and taking the proper precautions, lead acid batteries can be handled safely with minimum risk.
However, lead acid batteries contain sulfuric acid which is both poisonous and corrosive.
This makes them potentially hazardous and can cause serious injury when standard handling procedures and safety measures are not respected.
No sparks, flames or Smoking.

Shield eyes.

Keep children away.

Corrosive hazard.

Explosion hazard.

Read instruction manual carefully.

Flush eyes immediately with water. Get medical help fast.
Safety
Always wear acid resistant clothing, protective goggles, PVC gloves and rubber boots.
Avoid smoking, sparks and flames near operating or charging lead acid batteries.
Keep metal objects away from terminals.
Batteries are heavy. Lift carefully and do not place on unstable surfaces.
Emergency Action
Splashes in eyes : Wash out the eye with plenty of water for at least 15 minutes.
Splashes on skin : Remove contaminated clothing carefully and wash the affected skin areas with plenty of water.
Swallowed : Drink copious amounts of milk of magnesia, water or milk. Do not induce vomiting.
Storage
Keep batteries upright.
Never stack over 4 layers.
Batteries should not be directly exposed to the sun.
Never drop, never overthrow.
Keep batteries clean and always store in a cool, dry place.
5-Year
A-MFG. Month
K-Country
J-MFG. Factory
01-Date
Date Coding System on the Cover
ex)Date Code(MFG. Code) : 5AKJ01 means manufacturing date Jan.01.2015
Year : 5(2015)
MFG. Month : A(JAN), B(FEB), C(MAR), D(APR), E(MAY), F(JUN), G(JUL), H(AUG), J(SEP), K(OCT), L(NOV), M(DEC)
MFG. Factory : J(Jeonju Plant), D(Daejeon Plant)
Installation and recharging
Installation

Turn off engine, all accessories and key off.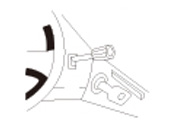 Remove the negative cable (Ground) first, and then positive cable from the old battery.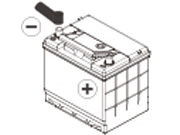 Remove the hold-down bracket or clamp.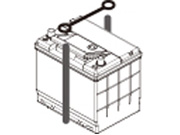 Replace with new battery and fix it with hold-down bracket or clamp.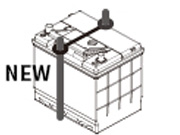 Connect cables in reverse order from positive to negative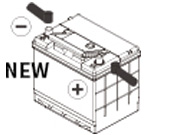 If clamp or cables are corroded, remove corroded material and grease it


Recharging
If the battery is below 12.4V or fails to pass the load test, battery must be recharged as soon as possible to prevent lead sulfation. During charge, if the battery sprays electrolyte through the vent holes or gets hot (over 52℃), the charge must be stopped for a time to allow the battery to cool.
Constant current charge method
Measure the OCV(Open Circuit Voltage)of a discharged battery.

Set the OCV and capacity of the battery with moderate electric current and time stated below table.

Connect the battery to constant current charger and start charging.

When the charging time is completed, separate battery from the charger.
State of
Charge
Sp.Gr
OCV
~30Ah
~40Ah
~50Ah
~60Ah
~70Ah
~80Ah
~90Ah
~100Ah
~110Ah
1.5A
2.0A
2.5A
3.0A
3.5A
4.0A
4.5A
5.0A
5.5A
100%
1.265
12.7
-
75%
1.225
12.4
6Hrs
50%
1.190
12.2
12Hrs
25%
1.155
12.0
18Hrs
Discharge
1.120
11.9
24Hrs
Constant voltage charge method
Connect the discharged battery to constant voltage charger.

Charge for 24 hours as following voltage upon battery type.

- 12V MF Battery: 16V
- 12V AGM Battery: 14.4V

When the charging time is completed, separate battery from the charger.
Battery testing procedure
Test
Visual check
Check the Container, Cover and Terminals. Where physical damage is present, replace the battery.
Check the Indicator (If the battery has the Indicator). Always look right down when viewing the Indicator and lightly tap the Indicator on the battery to dislodge any air bubbles

Good Condition

Charging Necessary

Replace Battery
Voltage check
If OCV is below 12.4V, recharge the battery immediately.
Discharge Test(Load Test)
Connect the battery tester to battery terminals.
Measure the temperature of the battery around.
Set the battery tester ampere values for ½ of the CCA rating.
Apply the load for 15 seconds and read the voltage.
Compare measured values with values in TABLE 2.If the values are outside of the table values, recharge the battery and test again.
If the battery fails the load test twice, replace it.
Sometimes, electronic testers such as MIDTRONICS, SNAP-ON and etc are used instead of load tester.
Electronic testers are only suitable for batteries that have been in use for a certain time.
They cannot rate the performance of new or unused batteries.
For this reason, we recommend the test defined in global standards to confirm rated specifications.
State of Charge
| Approximate State of Charge | OCV |
| --- | --- |
| 100 % | 12.75 |
| 75 % | 12.40 |
| 50 % | 12.20 |
| 25 % | 12.00 |
| Discharged | 11.90 |
Load Test
| Minimum Voltage | Temperature |
| --- | --- |
| 9.6V | 21 ℃ above |
| 9.4V | 10 ℃ |
| 9.1V | -1 ℃ |
| 8.9V | -7 ℃ |
| 8.5V | -18 ℃ |
**For reference only
Will driving a car fully recharge a battery?
There are a number of factors affecting an alternator's ability to adequately charge a battery. The greatest factors are:
How much current (amps) from the alternator is diverted to the battery to charge
How long the current is available (drive time)
Battery temperature
Battery age
Generally, running the engine at idle or short stop-and-go trips, during bad weather at night, will not recharge the battery effectively.
In the following situations, the alternator will not adequately recharge a battery:
The battery is drained because an interior light was left on in the car for 18-24 hours.
The battery is drained because the vehicle has not been driven for a month or more.
The car is only driven at 60 km/h (35 mph) to a nearby store and back 2 or 3 days a week.
What are cold cranking amps (CCA)?
The battery's Cold Cranking Amps (CCA) is an important measure for good cranking ability in cars, trucks and boats. CCA is the amount of current or amps a battery can provide at -18° C (0° F) for a 30-second duration until the battery voltage drops to unusable levels. The rating is defined as the current or amps a car battery can deliver for 30 seconds and maintain at least 1.2 V per cell (7.2 V for a 12-V battery) at -18 °C (0° F). Refer to your application guide for the vehicle, and follow the recommended CCA rating for that vehicle's engine and features (ampere-hour rating, optional equipment, etc.).
For example, a 12-volt battery with a 650 CCA rating means the battery will provide 650 amps for 30 seconds at -18° C (0 °F) before the voltage falls to 7.20 V for a 12 V battery. So in extremely cold temperatures, the higher CCA level is required to crank your engine. In addition, as more cranking power is used, the amount of battery power available decreases.
How do I know when it is time to replace the battery in my car?
There may be little or no warning. However, if any of the following happen, your battery should be tested immediately:
Motor has difficulty cranking over
Battery indicator light on the instrument panel stays lit for extended periods after starting. This could also be a mechanical issue (possible alternator) and should be checked by a professional mechanic.
Headlights dim when the engine is idling
Clock starts to lose time after the vehicle sits unused for several days
Note: To maximize the vehicle's battery/charging system service life and performance, it is recommended a vehicle's battery and charging system be tested at least semiannually or every time the oil is changed.
Specialty batteries - What is the difference?
Marine/RV Batteries
These batteries have starting power, plus the ability to power the many creature comforts in today's boats and RVs. In addition, these batteries have thicker lead plates and typically have both threaded posts as well as the standard SAE automotive posts to connect to the vehicle's battery cables.
What is the difference between a series and parallel connection?
 Why is my battery dead? I stored it in the warmth in the off-season
How long how should my battery last?



How should I store my batteries when not in use?



Golf Cart Batteries
Unlike car batteries, golf cart batteries don't need starting ability. Instead, they need to be able to power your cart with long periods of time between charges.


How can I ensure I get the longest life from my batteries?


What is equalization?
How should I store my batteries when not in use?


Solar Batteries
What is the best battery for my solar application?
How many batteries will I need?